Arabella on pick up day.
Don't forget to bring a collar and leash
When you come to pick up your puppy, you will need to bring his collar and leash. If you are traveling for more than a few minutes you will need to bring a water bowl and water, towels for accidents and some toys for puppy to play with.
When you arrive, we will go over all your puppy's paperwork with you. You will get a packet with your puppy's pedigree, vaccination records, health guarantee, microchip information and temporary health insurance. You will need to register the microchip information using the form we give you and health insurance.


Your puppy has a 3 day health guarantee against anything. You must take him to your vet within three days of pick up so that we can establish a baseline clean bill of health or your health guarantee will be void. Of course, you are covered for two years against any genetic disorder that may occur.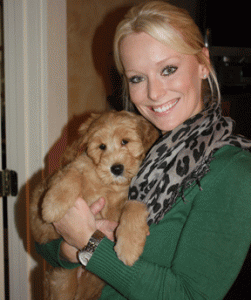 Charlie is going home.
Remember your puppy is not yet vaccinated
If you are traveling, you need to remember that your puppy is not fully vaccinated and needs to avoid any place where unvaccinated dogs may have been. If you have to use a rest area, drive to the very remotest part and carry your puppy to the back of the area. Do not let them wander around.

Please keep in mind that bringing home a new puppy is always a very exciting and special day that you will always remember. For puppy it is the day he left his littermates, so even though it is the beginning of the best part of his life, it can be terrifying day of changes and unfamiliar faces and smells. Try to reduce stress by making his drive home as calm and quiet as possible. Make sure he goes to the bathroom before getting in the car. You could put him in his crate, but a small and quiet puppy can be carried in a blanket by a family member or friend. Make sure you talk to him all the way home.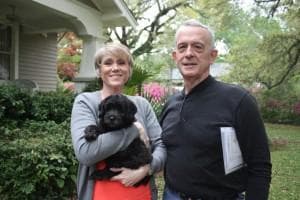 Boozer is heading to Texas.
Entering your house should be made calm and happy for him
Keep his greeters down to immediate family and allow him to play and sleep according to his rhythms. Make sure he eats and, especially that he drinks and take him out often so he can relieve himself. It's not a bad idea to put his crate in your room at night so he will feel you are near him and not be scared. A few plush toys in his bed substitute for companions.

When we have a new pup (that we have gotten from another breeder) at the house we put their crate on a table by our bedside. That way, he can see us during the night. Just remember, if he cries a lot you have to be strong. You need to set up good routines right from the start and giving in and taking him out of the crate (unless it's for a bathroom break) will not be a good way to start teaching your puppy that the crate is where he stays at night.