This is a list of basic things you will need to care for your puppy. See the links below to make your shopping easier!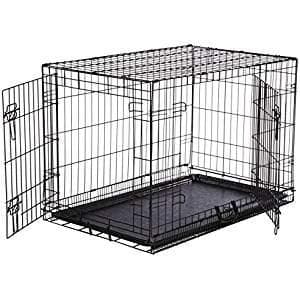 First you will need a crate
We prefer wire crates that the dog can see out of and have good ventilation.
You can choose from two door or one door, depending on how you want to arrange the crate.
To buy the correct size crate for your puppy, you want to estimate the size they'll be as an adult dog and buy one large enough for that, along with a divider to make it smaller until your puppy grows.
You could buy a smaller crate and upgrade later on, but I think that's just unnecessary spending.
We recommend the
30 inch size
for our mini pups under 30 pounds,
36 inch size
for medium size pups
42 inch size
for our puppies that will grow to over 45 pounds.
Here is a video on how to purchase the right size crate
Getting the right kennel size is important. If it is too small the dog will be cramped and uncomfortable. If it is too big they might use it as a bathroom! Watch our video to learn how to measure your puppy so you can purchase the perfect size kennel for your dog.